How to Choose Suitable PD chargers?
Views : 50
Update time : 2021-09-08 15:23:20
In recent years, mobile phone battery capacity has been increasing, which makes it take a long time to fully charge with a general charger. At this time, you may wish to consider switching to a PD charger. It can not only greatly shorten the charging time, but also support some notebook computers, application flexibility is very large. However, for PD quick charge, in addition to 65W, 100W and other models with different powers, there are also some differences in specifications. If you do not know much about this field, it is really difficult to choose.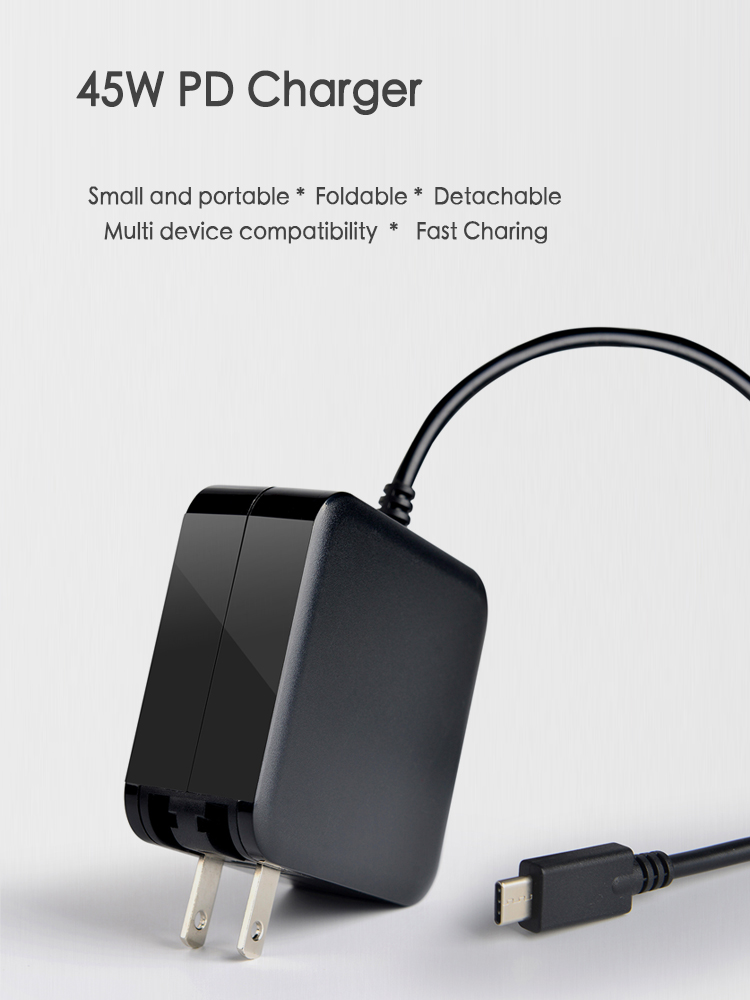 What are the benefits of PD charger?
Generally, each brand has its own quick charging specifications, and often cannot support each other. If there are multiple devices of different brands, there will be a mountain of chargers at home, which not only takes up space, but also must find the corresponding goods when charging. The advantage of PD charger is its unified standard, which can support a maximum of 100W large output power, charging speed is 5-6 times faster than the traditional charger, which is very practical in the occasion of emergency charging.

In addition, more and more devices support PD quick charge. In addition to mobile phones, even new Mac or some Windows laptops can provide power or charge through this function. As long as a quick charge head can cope with various situations. However, it should be noted that PD has a variety of voltage and current combinations, such as 5V / 9V / 12V and 3A / 5A, etc. Even if the output power is the same, there may be incompatible conditions, so please be sure to confirm relevant specifications in detail before purchase.

PD Charger purchase Guide
First of all, I will explain how to choose a suitable PD charger. Please confirm these items first and then decide which type of product to buy.

Select the appropriate power according to the equipment
When choosing A PD charger, the most important consideration is of course the output power. Please check the wattage supported by your device and then select the product that meets your needs.
Although the maximum output power of PD is currently 100W, most mobile phones only support the maximum power of 18W unless they are flagship models or models boasting fast charging due to limited battery capacity and overall power consumption. In addition, the higher the power of the commodity price is also higher, considering the cost performance, it is recommended to choose 18W ~ 30W style.

Of course, the output power can also be compatible downward, even if the lower power of the phone, can also be charged through 30W or higher wattage style, so if you have the intention to upgrade the phone later, you might as well choose a higher order of goods, so that it can be reused, do not have to buy a new charger.

For tablets or laptops, low output power can still charge, but the speed may be as slow as ordinary chargers, and the advantages of PD charger are almost not felt. Therefore, it is suggested to choose products with 45W ~ 60W to ensure a good use experience.

Generally speaking, the current notebook computers led by MacBook almost all take 65W as the standard. If you really do not know what specifications are compatible with the device in hand, 65W or so will be a safer choice. However, if it is a high-performance notebook computer with high power consumption, it may need higher output power according to different models, and these are usually marked on the specifications. Please make sure to confirm how many watts of PD charger it can support before buying.

Determine the number of connections according to the number of devices
After determining the output power, the next step is to check the need to build several connections according to the usage habits and the number of devices in hand, so as to screen out suitable goods.
Although only USB Type-C supports PD quick charging standard at present, after all, most 3C products are still charged through general Type-A. If there are 2-3 connection ports besides Type-C, it can not only support almost all models, but also connect all devices to the same charging head. Reduce the number of outlets and keep your desk clean。

Just when selecting goods with a large number of connections, we should also pay attention to the maximum output power of each type, so as not to find insufficient power after connecting a large number of devices, resulting in a slow overall charging speed.

If there is usually only a single device to charge, choose the PD charger with a single USB Type-C connection port. In this way, the internal structure of the product will be simpler, which can avoid overload or poor charging efficiency and lower damage rate. In addition, due to the electrostatic effect during charging, dust and debris are easy to gather in the connection port, which is easy to cause fire in addition to failure. Therefore, it is recommended to install dust plugs in the connection port that has been idle for a long time, or clean dust frequently to ensure safety.

With safety protection function more secure
For products with high current, such as PD charger, safety protection mechanism is an indispensable focus in order to be more secure in use. For example, overvoltage protection and overheat protection can ensure that the device does not fail or catch fire due to excessive voltage or temperature while charging, and can also slow battery aging. In addition, there are also styles of shell using flame-proof material, even if the accident can also control the disaster in the range.