Why Does Power Adapter Get Hot During Useage?
Views : 152
Update time : 2021-06-03 11:24:12
At what temperature range does it fall within the normal range?The switching efficiency of switching power supply can only reach about 75-85% at present.Here's the answer.Switching power supply conversion efficiency is high enough, it is difficult to find a better conversion mode.A switching power supply loses some of its energy during voltage conversion, most of it in the form of heat, except for a small part in the form of waves.The power of the switching power supply is short of large, the loss of energy is also short of much, the heat of the power supply is also short of large.That's why the desktop power supply needs for cooling aluminum sheet .We might as well calculate, a 100W switch power supply, in the use of how much energy loss in the above!
Therefore, in the design and production of switching power supply, must choose high temperature components.Of course, be sure to keep the temperature of the power supply within the range allowed by the application environment.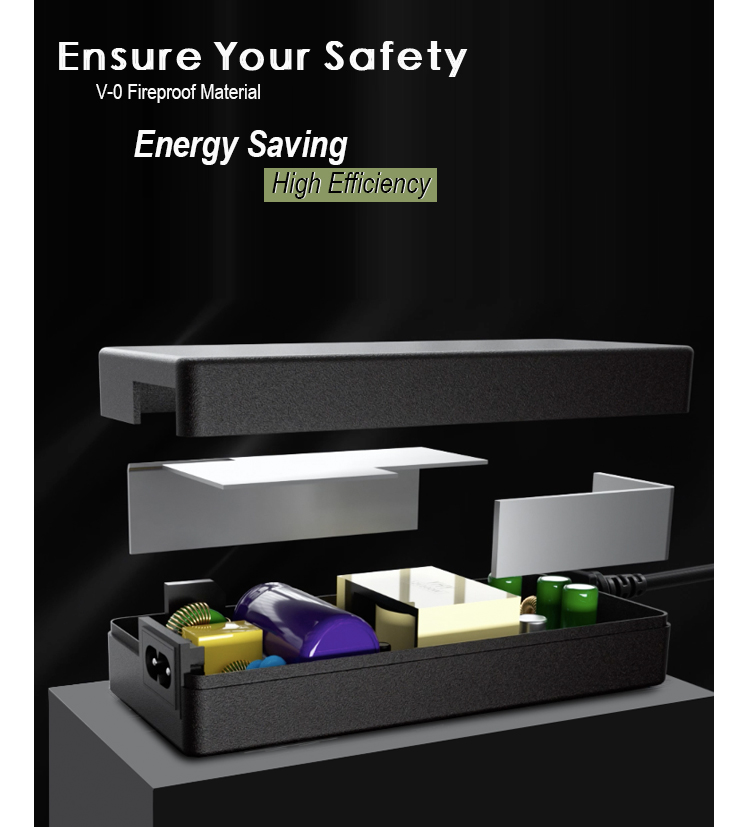 Power adapter manufacturers professionals think, first of all, the conversion efficiency is designed to be as high as possible, then, should choose the pressure drop is small, the switch of low dissipation components, three is designed for heat dissipation, cooling area as far as possible big, more than 100 w switching power supply generally there should be a metal punching shell, or add a cooling fan.At present, the power of notebook power adapter is generally around 60 or 70 W. It is sealed and packaged with fireproof and high-temperature resistant plastic. The heat generated inside is mainly distributed by the conduction of the plastic case.Therefore, the surface temperature of the power adapter is still quite high, the highest temperature will even reach about 70 degrees!Think of the inside of the adapter. It's like a fire!So, when you are using a laptop, try to put the power adapter in a place with better ventilation and heat dissipation, do not put books and other things on the power supply.As for that kind of hot feeling, we don't have to worry about, the power supply, if not heating just have a problem!